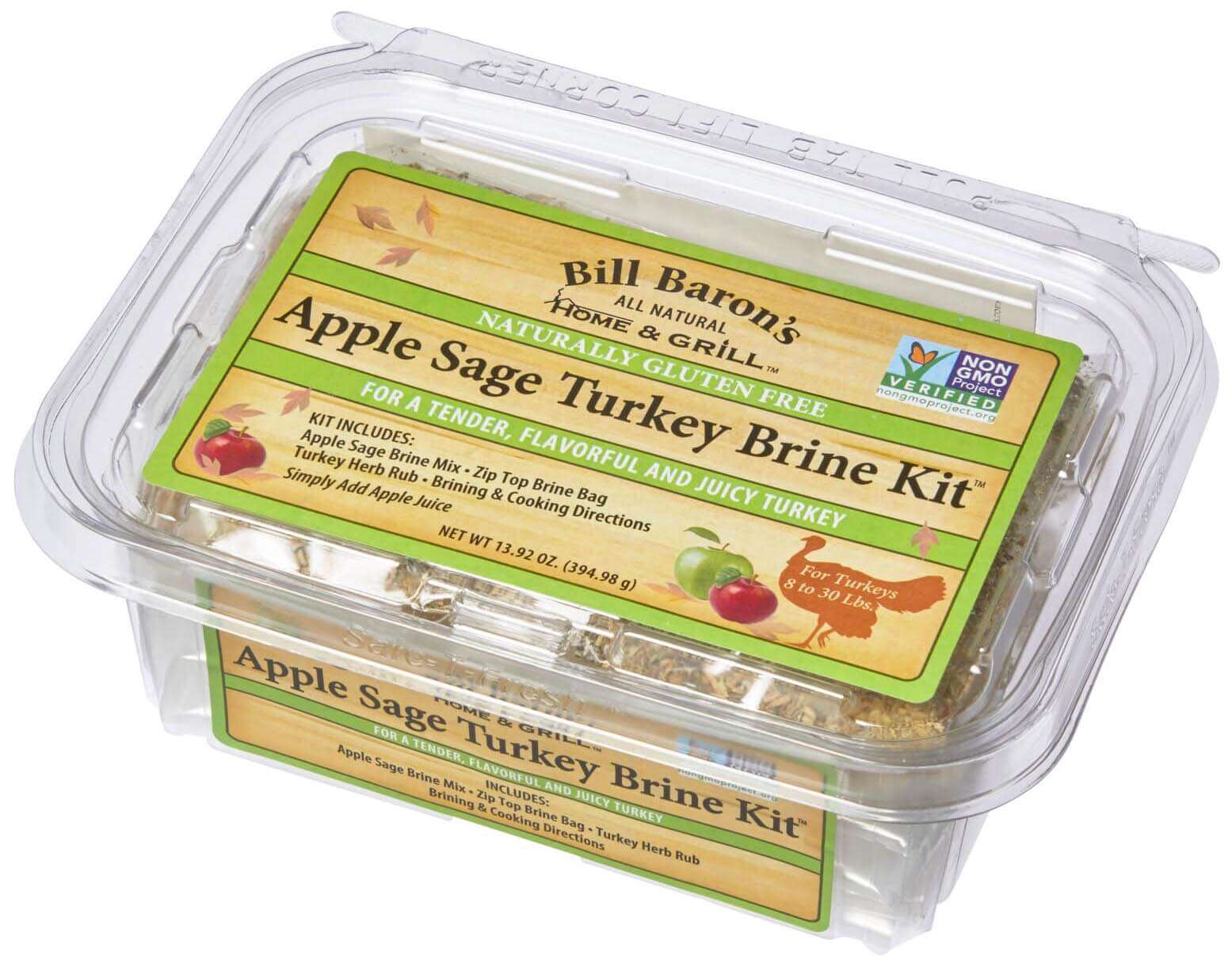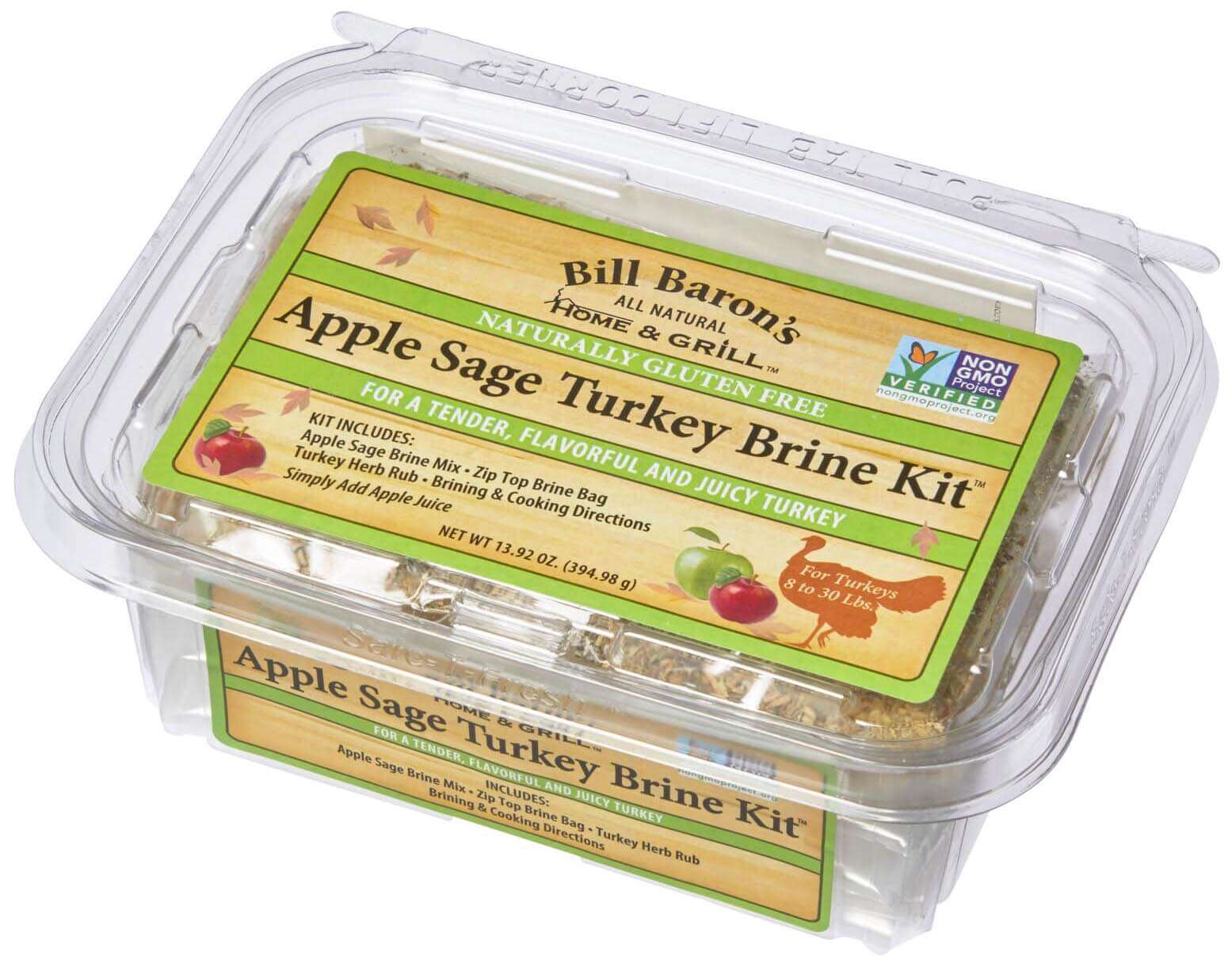 Apple Sage Turkey Brine Kit
Apple Sage Turkey Brine Kit
Weight: 14.88 oz
For a Tender, Flavorful and Juicy Turkey.
All of the ease from our old fashioned brine kit with the added flavor of apples and sage to give you a juicy, tender turkey every time. The kit includes a apple sage brine mix, zip top brine bag, turkey herb rub mix, and a brochure with illustrated instructions and cooking directions. Each kit will brine & season turkeys from 8 to 30 lbs. All you need is a turkey and apple cider or juice.
Ingredients: Sea Salt, Brown Sugar, Organic Evaporated Cane Sugar, Black Pepper, Apple Juice, Natural Vanilla Sugar, Sea Salt, Black Pepper, Natural Vanilla Flavor
¼ tsp. = 120 mg. Sodium, 5 % Daily Value, Gluten Free. Contains no harmful chemical agents, preservatives, artificial colors or flavors or MSG.

Apple Sage Turkey Brine Kit
Shipping and Returns
Shipping cost is based on weight. Just add products to your cart and use the Shipping Calculator to see the shipping price.
We want you to be 100% satisfied with your purchase. Items can be returned or exchanged within 30 days of delivery.
Quick Comparison
Settings
Apple Sage Turkey Brine Kit

remove

Hickory

remove

Thai Curry Blend

remove

Red & Green

remove

Roasted Meat Seasoning & Marinade

remove

Tokyo Sesame Sprinkle & Marinade

remove

Name
Apple Sage Turkey Brine Kit

remove

Hickory

remove

Thai Curry Blend

remove

Red & Green

remove

Roasted Meat Seasoning & Marinade

remove

Tokyo Sesame Sprinkle & Marinade

remove

Image
Price
Stock
Availability
Add to cart
Description
For a Tender, Flavorful and Juicy Turkey.

Adds great flavor to beef, chicken or pork.

For more flavorful Shrimp, Tilapia, Salmon, & more.

Adds Salt Free Flavor to Shrimp, Tuna, Salmon & More.

Adds great flavor to beef, chicken, pork or lamb.

Adds salt free flavor to Shrimp, Talipia, Tuna, & more.

Content
Hickory Smoked Salt & Pepper Rub enhances your Steaks, Burgers, Ribs and more. The perfect balance of Salt, Pepper and Hickory Smoke. Simple & Good.
Thai Curry Blend adds the authentic blend of curry spices for that globally inspired meal you've been wanting to try.
Red & Green Bell Pepper & Onion can be used as a marinade or a simple sprinkle to your seafood and more. Adds color to any dish.
Roasted Meat is a traditional seasoning used for flavorful Rib Roasts, Steaks, Chicken, Pork & Lamb. It's the original seasoning that has been used by butchers for years.
Tokyo Sesame Blend is a salt free combination of sesame seeds, peppers and mustard. A versatile blend of spices brings out the best flavor in tuna, shrimp, and more.
Weight
14.88 oz
3 oz
2 oz
2 oz
2 oz
2 oz