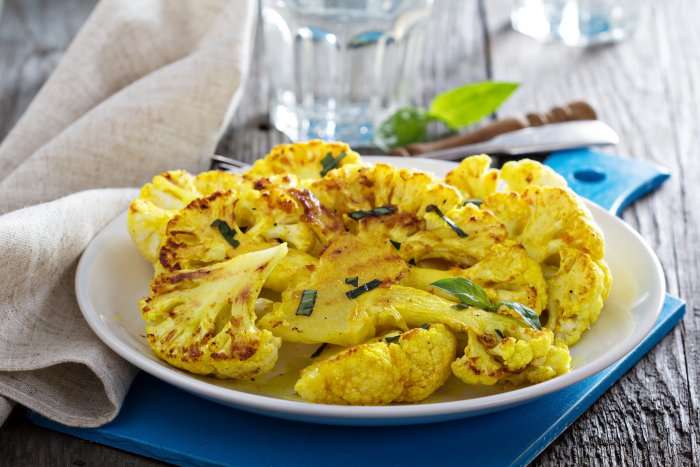 Ingredients
Head Cauliflower, Green Leaves and Stem Removed
1/2 cup Olive Oil
1/2 cup Bunch Herbs (Parsley or Cilantro)
Grill Safe Pan
Optional/Addons
Lemon or Lime Wedges for serving. Your choice
8 Flour Tortillas - 2 oz. Servings
Aluminum Foil. (See," Grilling Tip" at bottom of page.)
For Thai Curry Tacos, consider adding these delicious ingredients:
Lettuce
Diced Avocado
Diced Tomato
Sliced Jalapeno
Hot Sauce
Preparation
How to Prepare Cauliflower:
Cut the cauliflower into thick, steak size slices.
Lightly Sprinkle cauliflower on both sides with Thai Curry Blend and Olive Oil.
(As a guideline use 1 ½ tsp. Thai Curry Blend to 1 lb. Vegetables, Meat and Seafood.)
Lightly Sprinkle first time. You can always add more after Cauliflower is cooked.

How to Prepare Grill and Cook:
Preheat outdoor grill for Medium- High Heat and lightly oil the grate.
Cook cauliflower on the grill until char marks appear. 2-3 minutes per side.
Transfer to a grill- safe pan with a lid, cover and continue cooking on grill until tender, about 20 minutes.
Remove from the grill and sprinkle with herbs.

Grill Tip:
Aluminum Foil can be used to keep food moist, cook it evenly, and make clean up easier.