Herb & Garlic Grilled Vegetables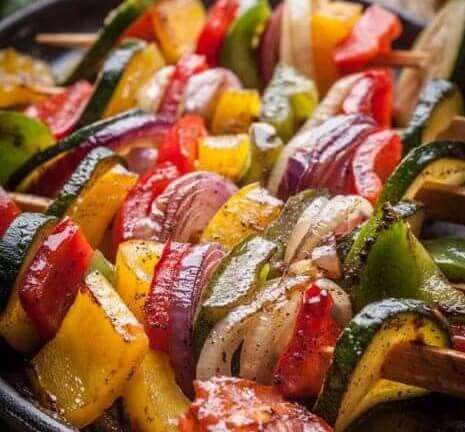 Ingredients
3CupsVegetables (Approx. 1 lb.) See below
1tbspOlive Oil or Vegetable Oil
Aluminum Foil: Enough to make squares for single servings or all vegetables.
Skewers – for easy grilling
Optional: Cast Iron Grilling Pan for easy grilling and serving.
Preparation
Preparing Herb & Garlic Vegetables
Place the Vegetables & Olive Oil in Zip Top Bag.
Add 1 ¼tsp. Herb & Garlic Seasoning in Zip Top Bag.
Press air out of bag and seal tightly.
Turn the bag to distribute the seasoning and coat the vegetables evenly.
Refrigerate and Marinate 1 -2 hours.
Preparing the Grill & Cooking
Lightly Oil Grill.
Note: To prepare to grill, you can skewer the vegetables (about 8 pieces per kebab.)
or wrap in aluminum foil. You can add some butter to vegetables when wrapped in foil.
Place the Kebabs on the grill preheated to Medium High Heat and grill 4 to 5 minutes a side
Or 8 – 10 minutes if wrapped in foil until vegetables are cooked through the way you like them.
Recommended Vegetables Options
You can marinate one vegetable only, 3, or any combination you'd like
Zucchini – ½" thick Slices or chopped
Asparagus – Whole or chopped
Mushrooms- Whole, Chopped, Sliced
Cherry Tomatoes- Cut in half or Cut in quarters.
Onion Red, White, Vidalia – ½ inch thick Slices or Chopped
Eggplant- Sliced or Chopped